Linking up with
Lisa Leonard
and Coastal Charm for
Nifty Thrifty Tuesday
...
Hello to a simple little project...
time to start thinking about secret sister gifts, little holiday
love gifts, teacher's assistants gifts, etc...
these little rings are also items for
The RAK
store
at my middle school:)
First you will need ring blanks...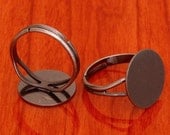 these easy button and fabric rings...
they'll be a steal!)
You will need: ring bases, fabric scraps, jewels and/or buttons to adorn rings,
and
E6000
amazing wonderful glue...
cut about 1/2" into the fabric to create a strip, then rip the fabric for a vintage-y look...I used about 8 inches in length of this piece...
gather the end of fabric with your thumb and forefinger and twist the
fabric into a circular formation to form a "flower"
(if the flower is too bulky just cut down the length of fabric you use)...
continue gathering flower and add a stitch with your sewing machine, or by hand with a needle and thread through the center of the flower...
Add a bit of the E6000 glue to the top of the ring base...then attach your finished fabric flower...
Press down the fabric flower and allow to dry for about 10 minutes
then add a jewel or button with
a little more E6000 glue...
look how cute these turned out! love them:)
okey dokey, now for some buttons...I found these at the fabric store for about $1 per
package of 4 for the button shaped flowers and the pearly buttons...
so simply take your ring base, add a little E6000 glue, adhere the first bottom
button and press firmly allowing to dry for about 10 minutes...
then add a tad bit more E6000 glue and attach another button for
added decoration...allow to dry completely (overnight),
awe so cute! (it's craft bonanza time at my house, can you see my
daughter's Tinkerbell skirt in the background? I'm having so much
fun sewing and crafting this weekend!!)
enjoy! These would be great gifts for secret sisters, teachers, gift exchanges for the holidays, etc...
just package them in a cute little box or mini gift bag:)